San Francisco IT Services Security For Businesses
Reliable IT Security Services Don't Have To Cost A Fortune
If you're looking for San Francisco IT services security, you've come to the right place. OneClick Solutions Group understands the importance of keeping your business safe and secure.
OneCick Solutions offers various IT services to protect your data and keep your systems running smoothly. Our team is experienced in all areas of IT security, and we're always up-to-date on the latest threats. So if you're looking for peace of mind, contact us today!
Cloud Services And Support
OneCick Solutions provide comprehensive IT services and support to San Francisco and Bay Area businesses. We understand businesses' unique challenges in today's ever-changing landscape and are here to help.
From our help desk to our on-site support team, we are dedicated to providing the best possible service to our clients. We offer a wide range of services, including network administration, security management, and data backup and recovery.
OneClick Solutions also provides various managed services plans, so you can choose the level of support that best meets your needs.
Whether you need occasional help with a specific issue or comprehensive ongoing network support and maintenance, we are here to help. Contact us today to learn more about our IT services and support plans.
Top Managed IT Services in San Francisco Bay Area
OneClick Solutions a leading provider of managed IT services in San Francisco Ca. We provide comprehensive co-managed IT support expertise and management services to enterprise clients.
We have a team of experienced support staff that provide consulting services. We offer a wide range of IT services, including
Network security

Data backup and recovery

Cloud computing and more
We are committed to providing our clients with the best possible IT support and service.
Protection Your Systems
No business can afford to overlook security. A security breach can lead to data loss, customers, and money. And with the ever-growing threat of cybercrime, the need for robust security systems has never been greater.
Fortunately, we are security providers who can design and implement a security system tailored to the specific needs of your business. From simple intrusion detection to advanced security protocols, these providers can give you peace of mind knowing your business is protected.
So if you're looking to protect your business from the growing threat of cybercrime, don't wait any longer!
Network Security Services That Matter
Security Awareness Training and Phishing Testing
Give your staff proper web-based training on handling sensitive information and identifying fake emails that hackers send in an attempt to steal data.
A well-informed staff aware of the risks will be less likely to make mistakes, reducing the organization's liability.
Vulnerability
Scanning Scans are one-time visual inspections of your network. The term "scan" refers to a quick look for potential threats that may be used to attack and steal data from the web.
Everything connected to the internet, including a laptop, a Wi-Fi-enabled security camera, or a printer, is a potential door into your network and data.
It's critical to keep track of these access points on the network to safeguard data. This form of scan checks to see whether any of the doors have been unlocked.
PII (Personal Identifiable Information) Scanning
Analyzing the physical spots where this sensitive data is kept and taking steps to protect it can help minimize any damage caused by a breach.
Penetration Testing
This "White Hat" test will help your business determine any vulnerable areas of your website that could be externally visible to potential hackers.
Many compliance/regulatory organizations require this type of test to have a comprehensive simulation of a malicious attack.
We can ensure that your website is much more secure by fixing the vulnerabilities revealed in this proactive test.
LastPass Team Edition (Password Management)
Password management software not only automates the input of website passwords but also creates secure, complicated passwords as needed.
This allows businesses to centrally manage all passwords and track how frequently staff members log into different websites.
Two Factor Authentication
This strengthens your access to applications, such as email and servers.
Single Sign-On
Whether your applications are in the cloud, on-premises, or mobile, we can provide secure identity management and single sign-on to make it easy for your employees, partners, and customers to access them.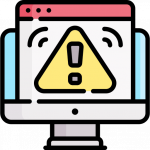 Microsoft Office 365 Advanced Threat Protection
Microsoft's data center is where the delivery of emails is secured. Microsoft's data center helps prevent malicious links and attachments from getting through since it routes them around.
If a worker clicks on a harmful link or receives an infected attachment, this service will stop any malware that may enter.
Microsoft Azure Rights Management
For controlled access to information (e.g., restricting sensitive documents from being emailed outside the company or printed), encryption is used to secure electronic messages and tag sensitive data for restricted access.
BDR (Backup and Disaster Recovery)
Using cloud replication, servers can be backed up to the cloud to create a warm standby environment.
This provides a way to resume business operations quickly in the event of a disaster and dramatically reduces downtime.
DLP (Data Loss Prevention)
Data leak protection (DLP) is a system that keeps sensitive data from leaving an organization's secure perimeter.
It encompasses technologies and systems created to detect attempts at moving confidential information outside of where it's supposed to stay. It can also be referred to as data loss prevention or leak protection.
Disk Encryption
Encryption converts information into unreadable code that is difficult for anyone but the intended recipient to decipher.
Disk encryption, also known as disk scrambling, encrypts all data on a disk or disk volume using disk encryption software or hardware. Unauthorized access to data storage is prevented with disk encryption.
DNS Security
A domain-blocking service allows control over the types of sites accessed by categorizing websites, or non-Web servers visited. Blocklists and allowlists can be used to override the categories.
SIEM (Security Information Events Management)
A system that stores and analyzes logs in near real-time, SIEM systems allow security personnel to take defensive actions more quickly.
This data is collected into a central repository for trend analysis and provides automated reporting for compliance and centralized reporting.
By bringing these two functions together, SIEM systems provide quicker identification, research, and recovery of security events while allowing compliance managers to confirm they are fulfilling an organization's legal compliance requirements.
Serving All Of San Francisco
OneClick Solutions Group is proud to serve the entire San Francisco Bay Area with our comprehensive managed security services.
We understand the unique challenges businesses in this region face regarding security, and we are dedicated to providing the highest level of protection possible.
Our team of experienced security professionals will work with you to tailor a security plan that meets the specific needs of your business. We offer a full range of services, including:
Malware removal
Firewall management
Intrusion detection and prevention, and much more
With OneClick on your side, you can rest assured that your business is safe from the ever-changing threats of the digital world. Contact us today to learn more about how we can help you protect your business.
How Cloud Services Can Help My Business Security
In today's increasingly connected world, security threats can come from anywhere. That's why it's more important than ever for businesses to invest in robust security measures. Cloud services can help companies to beef up their security in several ways.
First, cloud-based security solutions are often more effective than traditional security systems because they can be updated more frequently. This means that they can keep pace with the latest security threats.
Second, cloud services can give businesses real-time visibility into their security posture. This is invaluable for identifying potential security vulnerabilities and taking steps to mitigate them.
Finally, cloud services can help businesses implement best practices for security and compliance. By leveraging the expertise of experienced security professionals, companies can better protect themselves from the ever-changing landscape of security threats.
If you need project management in San Francisco Ca contact OneClick Solutions today!
Managed Services For Small Businesses
As a business owner, you have a lot on your plate. From managing employees to keeping up with the competition, there's always something that needs your attention. One area you might not have time for is IT security.
But did you know that cybercrime is on the rise? 43% of cyber attacks target small businesses. That's why it's essential to have a solid IT security plan in place. Managed IT services can help by providing around-the-clock network and systems monitoring.
If a security breach does occur, managed IT services can help limit the damage and get your business back up and running quickly. So please don't wait until it's too late. Invest in managed IT services today and give yourself peace of mind knowing your business is protected.
Support Services And Business Continuity 
For any business, big or small, efficiency is key to success. You need your systems to run smoothly so you can focus on what you do best. That's where IT support services come in. We provide comprehensive IT support tailored to your specific business needs.
OneClick Solutions can help with everything from setting up your systems and networks to providing ongoing maintenance and troubleshooting. And because we understand that every business is different, we offer a range of plans and pricing options to suit your budget and requirements.
So whether you're just getting started or looking to upgrade your existing IT infrastructure, we can help. Contact us today to learn more about our IT support services and how we can help your business succeed.
Technology Solutions For Your Small Business
As a small business owner, you know that protecting your data is vital to your company's success. But with a limited budget and staff, it can be challenging to know where to start. The following five IT security services can help you safeguard your business without breaking the bank with a proper managed service provider in San Francisco Ca.
Firewalls
A firewall is a critical first line of defense against cyber attacks. A firewall can help prevent sensitive data from falling into the wrong hands by blocking unwanted traffic and identifying suspicious activity.
Anti-virus software
No matter how strong your firewall is, there is always a risk that malware will find its way onto your systems.
That's why it's essential to have anti-virus software installed on all of your devices. This software will scan for and remove any malware that gets past your firewall, keeping your data safe.
Password management
Strong passwords are essential for keeping your accounts secure, but creating and remembering complex passwords can be challenging.
A password manager can help by generating and storing strong passwords for you. This way, you only need to remember one master password, making it much easier to keep your accounts safe.
Data encryption
Data encryption is a process of transforming readable data into an unreadable format. This makes it much more difficult for unauthorized users to access your information if they bypass your other security measures.
Training and Awareness
Even the most robust security measures cannot protect your business if your employees are unaware of proper security protocols.
That's why it's crucial to provide training on topics like social engineering and phishing scams.
You should also ensure that your employees know what to do in a data breach. By taking these steps, you can help reduce the chances of a successful attack on your business.
Contact Us for a Free Technology Assessment
OneClick prides itself on staying up-to-date with the latest trends in information technology. We understand that trying to keep up with the rapidly changing IT landscape can be daunting for businesses, which is why we offer free technology assessments.
Our assessment will clearly understand your current IT infrastructure and identify areas where improvements can be made. We will also provide recommendations on utilizing existing resources and implementing new technologies.
With our help, you can ensure that your business always uses the most effective and efficient IT solutions. 
Contact OneClick Solutions today to schedule your technology assessment and quality San Francisco IT security services.