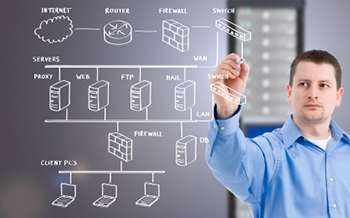 In your early stage organization, you'll have a lengthy list of critical tasks and important decisions.
Why make IT harder than it should be for your startup? IT outsourcing is important at the initial stages of your startup for the subsequent reasons:
Human Capital. You would like vision and staff concentrating on your products and delivery, not IT infrastructure.
Technical Focus. You'll need talented IT engineers with a broad range of IT skills and knowledge. By outsourcing IT, you get the depth and breadth of IT experience you would like but can't yet afford.
Create a foundation for growth. An agile IT environment permits you to expand IT infrastructure quickly and as you capture business opportunities.
Avoid Wasted Expenses. As your storage and end-user demands grow, it is sensible to "turn-up" capacity instead of use your valuable capital to get it. For everything IT just buys what you employ instead of invest in software and hardware, you'll got to maintain, upgrade and replace.
Don't waste some time doing patching, upgrades, and maintenance on your startup IT infrastructure. Get experts to troubleshoot network connectivity, security, backup, disaster recovery, database administration, manage software applications, e-commerce, and more.
Lower Overall IT Spending. Manage business cycles effectively by adjusting your IT infrastructure accordingly. Outsourcing it'll reduce your capital costs and operating budgets.
Creating Value. Increase the valuation of your startup for future investors by focusing resources on products, innovation, and marketing, not IT infrastructure.
Our value to Startups more than just IT Consulting
OneClick has partnered with many startup organizations for over 12 years. We understand the challenge for new organizations to optimize the utilization of business resources to support growth. We know how important your startup IT infrastructure is to each user and your investors.  We'll provide you with the IT infrastructure and systems you would like to achieve and, at an equivalent time, cut the high costs of initial startup capital expenses.
Our Managed IT Services provide a highly reliable and versatile solution which will still grow as your business grows. OneClick has an in-depth range of capabilities from network consulting, cloud hosting, VoIP services and 24×7 IT management capabilities (we know you'll be working nights). We pride ourselves on delivering IT infrastructure and support services that exceed industry averages in many categories.
Review this list to determine if OneClick IT Services may be a good fit your Startup Organization:
Growth of your data is increasing, and your startup IT infrastructure cannot continue
Legacy systems exist and are quickly becoming obsolete and harder to support
The number of web sites, devices, systems and users at your startup is increasing
As everything is growing so is your ability to manage risk, security, and compliance
Finance wants to maneuver from a capital to an operating cost model
Existing IT infrastructure is fragmented and becoming more complex to manage and monitor
Maintenance is burdensome and licensing, and support contracts are getting problems
If you accept that data is critical to your startup company which the management of that data is equally important, then you would like to determine a relationship with a provider like OneClick which will be a partner with you and not a faceless vendor who just sells a commodity solution.
n help you resolve these challenges in a more effective and efficient manner.